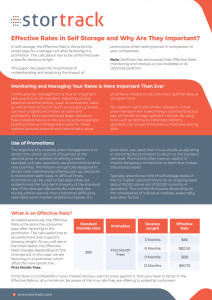 In self-storage, the Effective Rate is the price the
renter pays for a storage unit after factoring in a
promotion. The calculation has to be performed over
a specific tenancy length.
This paper discusses the importance of
understanding and analyzing the impact of
promotions when setting prices in comparison to
your competitors.
Note: StorTrack has announced that Effective Rate
monitoring and analysis is now available in its
Optimize platform.

Not yet an OPTIMIZE subscriber? Sign up for a FREE trial today!