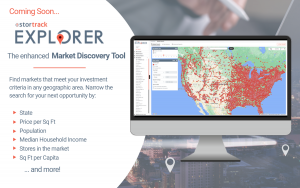 StorTrack is committed to being your first and only source for market analysis data. With the launch of the Explorer platform, StorTrack has provided users with the data needed to perform due diligence on sites already selected.
Soon, Explorer users will also have access to the all new Market Discovery Tool, a mapping tool to help operators, investors and developers identify potential new markets for investment based on their own parameters or market criteria. Users will be able to filter the Explorer map by selecting and setting from the following parameters:
State
Price per Square Ft.
Population
Median Household Income
Stores in the Market
Square Ft. per Capita, and more!
Once the criteria has been selected, the Explorer map will quickly pinpoint the markets matching the market parameters. Users can then can then learn more on any of the matching markets by adding them to their dashboard or purchasing a market report.
This feature will be available soon to all Explorer users (both free and paid account users). Stay tuned for more updates!
Not yet an Explorer user? Sign up now for FREE!