According to Census information, Phoenix, AZ is currently the second fastest growing city in the U.S. While there is no one reason for this growth, lower cost of living and great employment prospects are likely part of it. For self-storage this means greater demand for inventory. According to industry reports, 25 new self-storage locations opened in 2017 in the Phoenix metro area. Currently in the city of Phoenix there are over 150 self-storage facilities. Here, we examine whether the increase in self-storage inventory in Phoenix has resulted in any sudden changes in rates or pricing volatility.
Price Per Square Foot by Unit Type
We take a look at advertised walk-in rates for Small (15 – 75 sq. ft.), Medium (76 – 150 sq. ft.) and Large (151 – 300 sq. ft.) climate controlled units for Phoenix over the past two years.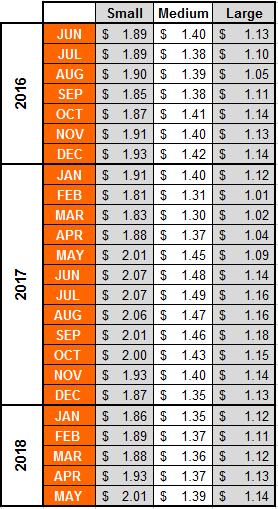 Despite the increase in inventory, overall, rates remain relatively unchanged over the past two years across all three unit types. However, when analyzing year-over-year rates for the last six months, show a slight increase in rates for the three different unit types.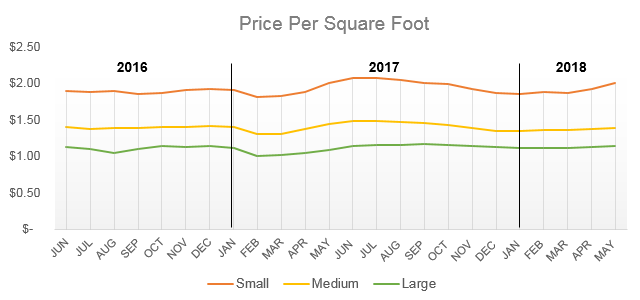 Pricing Volatility by Unit Type
Pricing volatility measures the number of times rates a change occurs – whether they increase, decrease, or a rate is added or removed from a store's website – over a period of time. Pricing volatility is an important indicator of how aggressive or passive a market is. We looked at pricing volatility in Phoenix, across all three unit types and found that while there has been no dramatic change in pricing volatility over the last 12 months, it has increased slightly. The key takeaway here is that as rates begin to increase slightly, so has pricing volatility. This could imply that the Phoenix market is now becoming more competitive as new facilities compete for market share.