Rates and Oversupply – What's Happening?
Industry forecasts indicate a slow down in new self-storage developments and a lighter pipeline of new projects breaking ground in the next year. Concerns about market saturation and oversupply in some areas are attributed to this change in the market. Self-storage rates have also been on the decline, presumably also due to the increase in self-storage facilities coming to market. In this analysis, we focus on the year-on-year rates over the last two years for the top metro areas in the U.S. and how these have trended.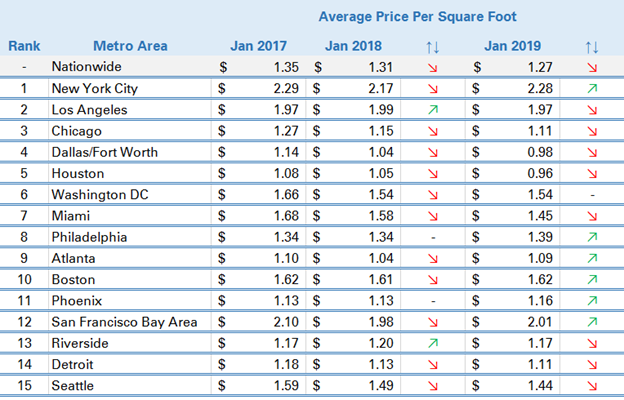 Here we calculated the price per square foot across all storage unit types for each metro area. In these calculations we consider the 'Online' rates, or promotional rates, only. The figures show that not only nationally, but at 11 of the 15 metro areas, rates went down when comparing average rates for January 2017 and January 2018. Rates remained the same in two of the metro areas, Philadelphia and Phoenix..
We found that year-on-year rates for January 2018 and January 2019, price per square foot rates went up slightly in six of the 15 metro areas; New York, Philadelphia, Atlanta, Boston, Phoenix and the San Francisco Bay Area, while they remained unchanged in Washington DC. Nationally, rates went down again compared to January 2018.
So what does this mean? From 2017 to 2018, rates experienced a slow growth, on par with the increase in supply in most of these markets. Although we have only compared rates for January of this year, the change in rate trends could possibly be an indication of demand catching up with the new supply brought into the market over the last couple years, though this could simply be due to seasonality. We will revisit this topic with a new analysis in a couple months. Stay tuned!