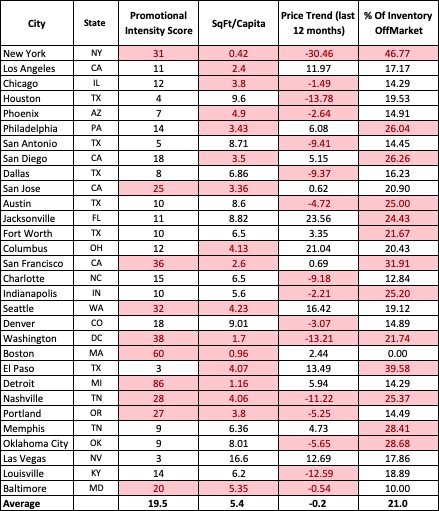 Many self storage markets have reached supply saturation point, if not an actual state of oversupply. Oversupply occurs when the amount of available rental space in a market far outweighs the demand in the market for rental space therefore, units stay empty longer. In these markets, occupancy levels will sit at 50-60% and stores will struggle to make an adequate return on investment.
How Do I Identify Over-Supplied Markets?
All investors and developers of new properties want to avoid investing in markets where there is oversupply. There are various traditional avenues of data analysis that can be pursued to determine the supply levels in the market as a ratio of the likely demand. Square feet per capita, price trends and inventory availability are a few typical data points.
Price trending is one area, but more extreme and urgent than this data point is studying the use of promotions. It seems common sense that if a facility is offering a large discount in the form of a promotion, that store is most likely demonstrating a more urgent need for business.
Promotional Intensity
At StorTrack, we recently created a scoring mechanism to measure and compare promotional intensity in markets. To do this, we had to create a way of quantifying the level or value of a promotion offered by any store. We created a scale from 0 to 100, where 100 was 50% off the regular price for a whole year. We noted this was the most extreme or generous promotion available in the US at the moment. Using this as the benchmark, every other promotion was less than 100 depending on the relative value of the promotion. It is worth mentioning as a sidenote that half of all promotions offered are $1 for the first month…
Having created the scale, we were then able to apply it to any facility offering a promotion or no promotions. Grouping stores together into markets, we can quantify the use of promotions in any given market. To test our hypothesis, we compared 30 markets to see if there was an obvious correlation between the traditional indicators mentioned above and this new indicator we created.
In the grid, red indicates when the number is above the average for the whole group or below the average if the indicator is such that lows indicates possible oversupply. Clear cases such as New York, Washington, Baltimore and Nashville indicate correlation. Learn more.