How well do you understand rate trends in your market? What impact is new supply having on your business? If you are competing against the top operators, is your business ready to react to sudden market changes? These are some of the many challenges small operators are currently facing. As a smaller operator, you must ensure you not only provide the best value to your current customers, but also remain competitive in value AND pricing to attract new customers. Doing so in the face of rapid supply growth from operators with top marketing techniques and dynamic pricing strategies, makes your efforts much more difficult. This means you must pay more attention unless you are willing to lose opportunities.
One market detail you should pay close attention to is pricing volatility. Pricing volatility helps measure the rate at which any operator, or market, makes changes in pricing. Operators and markets with a higher pricing volatility rate are more aggressive, changing rates often and dynamically (like airlines and hotels do). Operators and markets with higher pricing volatility likely have a better understanding of pricing as it relates to demand and inventory and are more likely to be leaders in pricing. Pricing volatility can help smaller operators, identify who the most aggressive competitors are.
Here we analyzed pricing volatility in three of Arizona's major markets, Phoenix, Tucson and Scottsdale. Below is the number of operators in each, broken down by type (Real Estate Investment Trusts, Midsize Operators and Single Store Operators) and the current pricing volatility for each. Across all three markets, the REITs (Public Storage, Extra Space, Life Storage, etc.) have a significant higher pricing volatility rate.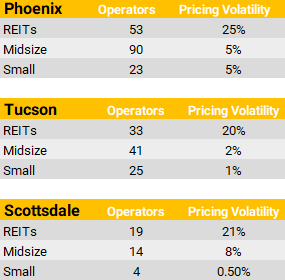 Although Large Operators are more likely to have a higher pricing volatility rate due to dynamic pricing practices, unless you have access to data for your immediate market, you don't know who exactly you are competing against. Now is when having access to local market data is crucial to remaining a successful business.