As a self-storage manager or operator, time is very important to you. We understand the need for quick and efficient ways to put together reports, but more importantly, the need for market data you can trust and base your business decisions off of. To help the hundreds of managers and operators which rely on our data for their pricing optimization, StorTrack has created a number of different market reports available at just the click of a button. Below is an overview of the different reports available to you as an Optimize user.Â
Comp Reports / Excel
Comp reports are the best and most efficient way to compare your inventory against the current market averages and against your competition's inventory. The Comp Report allows for apples-to-apples comparison, enabling you to compare your Premium and Value units to the same offerings advertised in your market. It also enables you to easily identify how high or low your rates are compared to the rates of your competitors and the market averages. This is a simple and easy-to-follow report on an Excel spreadsheet you can download at the click of a button.
Where to Find It
When signed in to Optimize, on your main Dashboard page, you will find the "Download Comp Report" option next to your store/market name. Click on the grayed out Excel icon. The report will take a couple of minutes to generate. Once the report is ready for you to download, the Excel icon will turn green. Once green you can download and open the Excel file on your desktop.

PDF Reports
Sometimes what you see on the Optimize dashboard is all you need to put your pricing reports together. There are many sections within Optimize which offer different analytics you may find useful when putting together your competition rate research. In Optimize you will find entire sections on inventory analytics, marketing activity, rate volatility, etc. Any of these pages can be easily downloaded into a PDF file, exactly as it appears on your screen for your convenience.Â
Where to Find It
Throughout the Optimize dashboard, most pages feature a PDF button on the top right corner of the page. Clicking on this button will download that Optimize page directly to your desktop.Â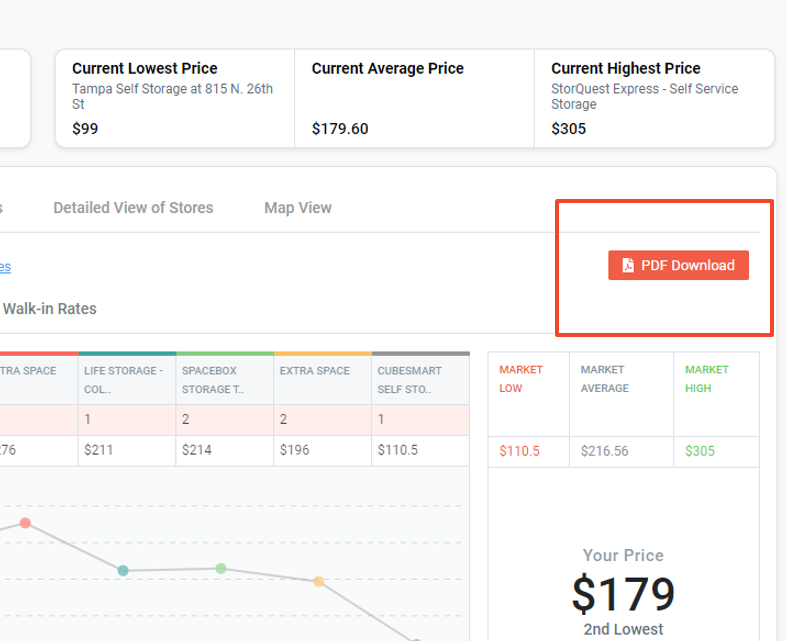 Detailed Rate Reports / Excel
Another useful report you can find in Optimize is the Detailed View of Stores Excel reports. These provide you with a list of the stores offering the unit type, address, unit dimensions, feature details along with the Online rate, Walk-in rate and promotions. The report allows for sorting and rearranging the report in whatever way you want within Excel.

Where to Find It
To download this report, simply click on any of the unit types set up on your Market Dashboard page. Then go to the Detailed View of Stores page where you can download the data to an Excel spreadsheet.
Tip: To view all unit types in this single report (rather than downloading reports for one unit at a time, on your main Market Dashboard page, create and save a search for all unit types. The Excel report will then include all unit types in your Market).Â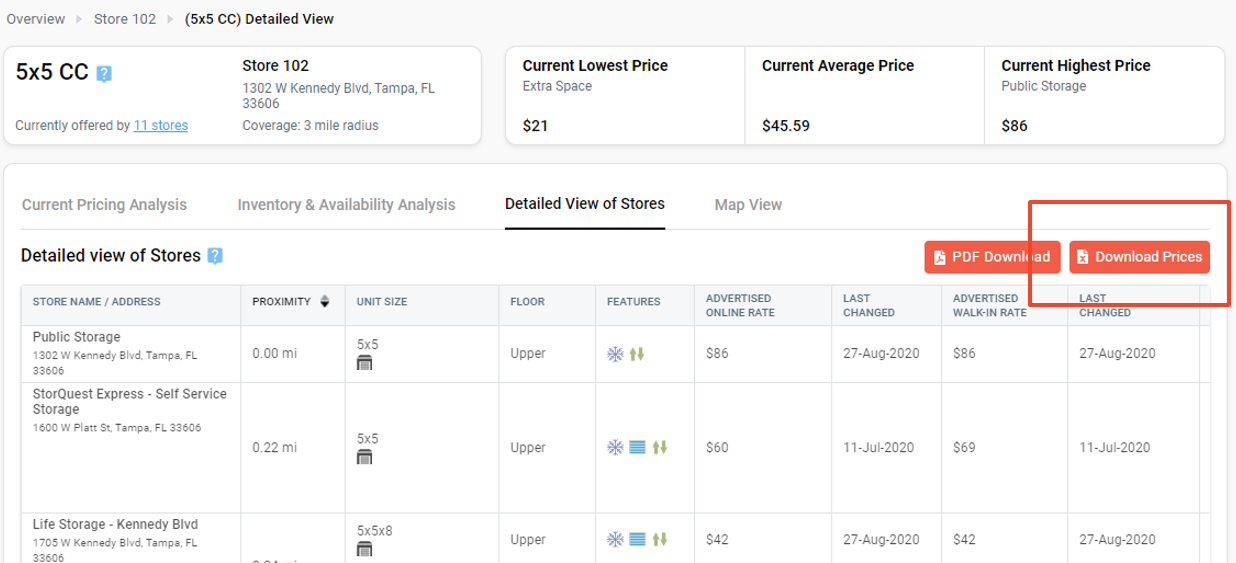 Custom Reports
StorTrack helps hundreds of operators save time with customized data feeds in which we automate the rate data to match templates you already use internally. These data feeds are set up to show exactly what you need, delivered whenever you need them, to anyone in your team. To inquire about our custom data feeds, contact your account manager directly or reach us at info@stortrack.com / 1-800-969-7424.