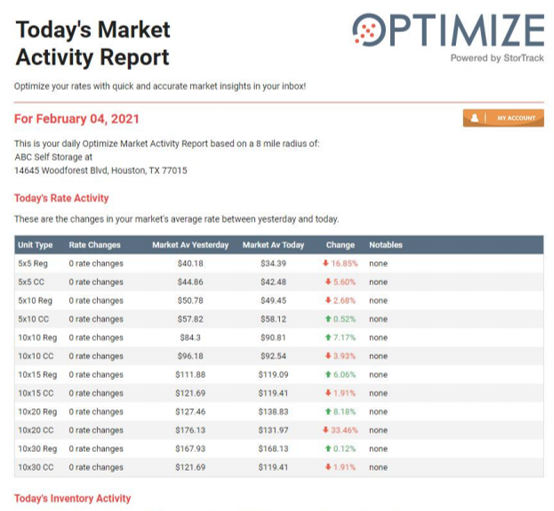 We know that as managers, owners and operators, having reports available to you is essential for your pricing operations. StorTrack recently released a new Market Activity Report feature which enables you to schedule a market overview report (a summary of market average rates, changes in inventory and rate trends) to be emailed to you and up to 5 other members of your team. Market Activity Reports can be scheduled for daily or weekly (an option for monthly alerts is being rolled out in a few days!).
What the Report Includes
Each of the Markets in your Optimize account will get a separate Market Activity Report email.
If you track multiple markets, you can schedule reports for different days. To update the settings of your reports (or pause these emails), log into your Optimize account and go to My Markets – there you will see the option to Set up the report emails. If report emails have already been scheduled, it will say Scheduled next to the market.
Today's Rate Activity
This section will show the number of rate changes that took place in the last day for the unit types in your market. You will see a comparison of the Market Average Rates for each unit type, between the previous day and today. Under Notables, you will see which of the competitors in your market made the most impactful changes in your market.

Today's Inventory ActivityÂ
This section compares changes in the number of units advertised in the market between yesterday and today. Know whether there have been any inventory changes to units you compete with directly and make rate decisions accordingly.
Today's Rate Trend Analysis
This is a view of rate trends for each unit type over time. You can see the if rates are increasing or decreasing in the last week vs. how they have trended over the last year.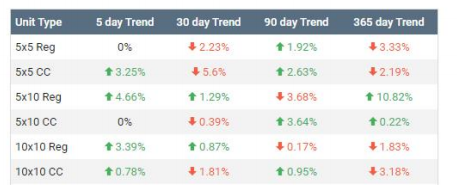 Schedule your Reports
This feature is now available to all Optimize subscribers. These reports are scheduled to be emailed every Monday by default for up to 10 of your markets in your account. To change the settings of your reports, login to your account now.
Feedback
We value all of your feedback. Let us know how we can improve!
Contact us: 1-800-969-7424 or support@stortrack.com