Oftentimes measuring the competition solely on their rates and value is not enough to determine who your true competitors are in your market. A careful analysis of their marketing efforts is an important step towards gauging their strategy to drive foot traffic into their store. This is why OPTIMIZE offers a Marketing Activity Scorecard to help you measure your marketing activity against that of the other stores in your market.Â
Each store in your market, including your own, is given a score based on their performance in five marketing categories – website, search, paid search, social media and contactability. The higher the score, the stronger the store's performance in that category. Having the ability to see where your marketing efforts rank against your competitors allows you the opportunity to see where improvements can be made for your business.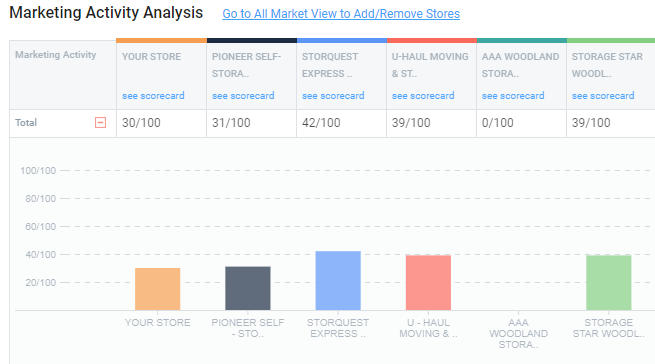 In this example the store is scored on various subcategories for their website, including ease of navigation within their website, if they have a booking engine to rent units on the site, photos of the store, online rates and more.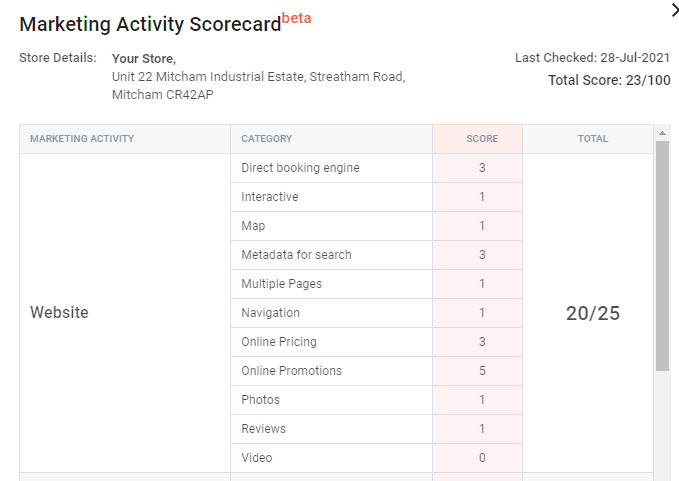 The Marketing Activity Scorecard is available for all US, Canada and UK OPTIMIZE users. Is you are not yet an OPTIMIZE subscriber, contact us today for a FREE trial.