StorTrack's featured market this month is DeSoto, TX. DeSoto is a suburb of the Dallas-Fort Worth metro area. In 2006, the National Civic League presented DeSoto with the All-America City Award. DeSoto has a thriving economic sector in the medical and aviation fields and over 400 acres of land ready for development.
How is DeSoto as a self-storage market and is it a good place to consider investing in? We've used StorTrack's Explorer platform to look at some metrics to analyze its potential as a self-storage investment.
Self Storage Market Metrics for DeSoto, TX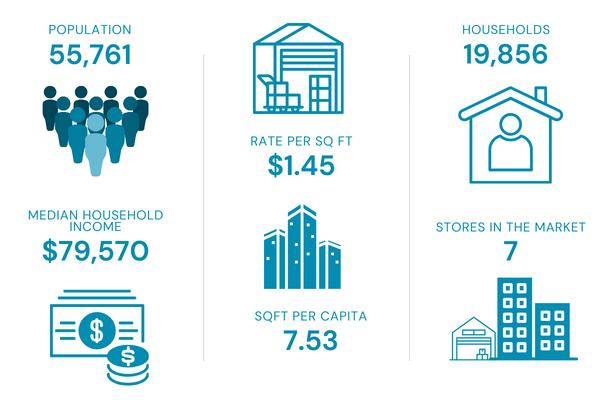 Current Supply
There is a 7.53 square feet per capita supply in this market. For comparison, Texas's square feet per capita is 10.99. Out of the seven self-storage stores currently operating in DeSoto, two are REITs, four are mid-size operators and one is a small operator. There are no new planned development projects in this market, though there are 209 active projects across the state.
Rate Trends
Rates in DeSoto have trended upwards in the last 12 months. The average rate per sq ft for standard, non-climate-controlled units is currently $1.45 and $2 for climate-controlled units.
View the Market Report for DeSoto, TX
Is this a good market for you to invest in? To understand DeSoto's potential as a self-storage market, view this complimentary report, giving you useful market statistics and metrics.
Additional metrics are available with report purchase.
To purchase a full market report for this or any other market, go to explorer.stortrack.com. Explorer is StorTrack's market analysis platform for self-storage operators, investors and developers. Explorer is available for the evaluation of any primary, secondary and tertiary market in the US, Canada and the UK. Sign up for free to start evaluating self-storage markets.