It's here! One of our most frequently requested features since the release of Optimize has finally arrived. As an Optimize user you can now take advantage of the all new Market Alerts feature and print to PDF option for most pages in Optimize.
During these difficult times, we understand the need for tools to help you as an owner, manager or operator, ensure that your business continues to succeed. As an Optimize subscriber, our goal is to provide you with as many tools to achieve this. Let us walk you through what is new.
Market Alerts
You need to know what's happening, when it happens. Now, more than ever, it's important to know what changes in your market are impacting your business directly.
If you have any 10×10 CC units in inventory, you have likely been tracking competitor rates in Optimize for this unit type periodically. Many competitors might be tempted to drop rates as a reaction to the current climate. Market alerts can help you react faster if you need to adjust your rates to the demand in your market.
Set alerts to track changes is unit pricing or inventory availability
Track changes in pricing (average, highest rate, lowest rate) across your whole market or specific competitors
Track whether units have been added or removed from competitor stores in your market
Alerts emailed directly to your inbox
Pause/re-activate alerts as needed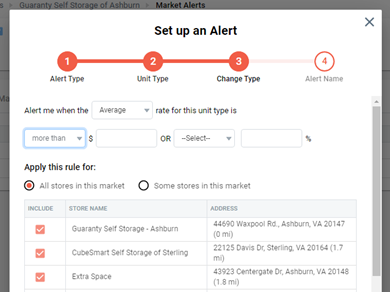 Print and Save to PDF
We know many Optimize users rely on our pricing data to build their own reports for further analysis. We have this process for you easier with the release of PDF and Excel downloads.
Each page within Optimize now has a PDF download button enabled. Simply click on the PDF Download button to automatically generate the page as a PDF. The PDF is saved to your desktop.
Download reports into Excel from your Market Dashboard and Detailed View of Stores pages. Click the Download All Data button to save the Excel file to your desktop.

Learn how to set up Market Alerts
To learn more about the updates or for additional information about any feature within Optimize, click the

icon on any page.