We've made it easier for our OPTIMIZE users to find reports for downloading. From the OPTIMIZE Market Dashboard, users can click the Download Reports menu to view of a list of market reports available for downloading straight to your desktop. Below is a breakdown of the reports currently available for downloading.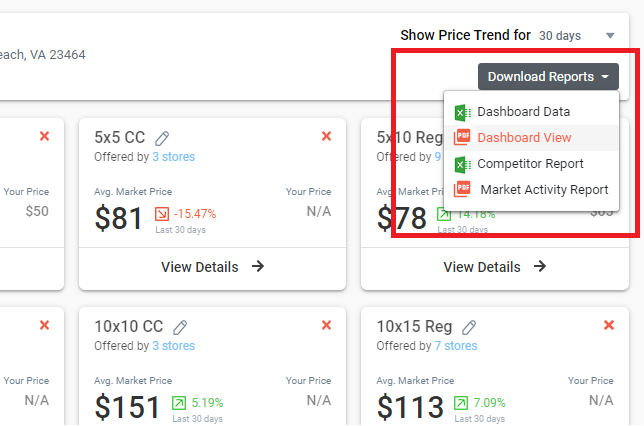 OPTIMIZE Dashboard Reports
Dashboard Data
Download current rates for all unit types set up on your Market's Dashboard as an Excel spreadsheet. This report will include all rates for any competitor currently advertising rates matching the units you have set up on your Dashboard.

Dashboard View
This is a PDF download of the Market Dashboard as it appears on your screen.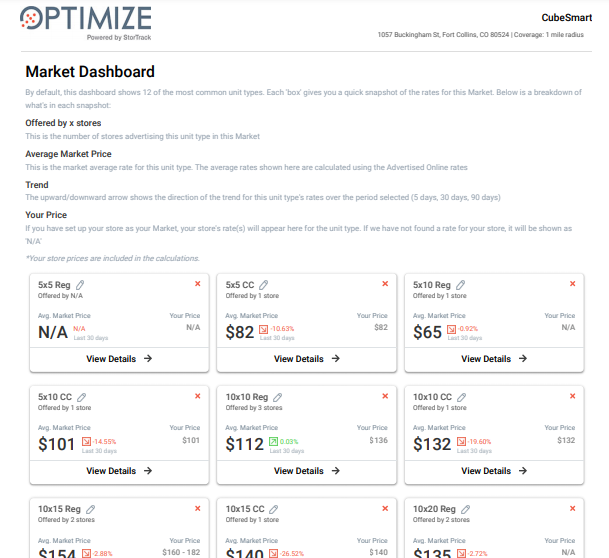 Competitor Report
This is an Excel Comp Report. It offers an easy-to-follow comparison of your stores' rates against the market average and the rates of any competitors offering similar unit types as yours. Quickly determine if you are overpricing or underpricing your units based on current rate activity in your market.
Market Activity Report
Market Activity Reports give you a comparison of today's rate activity in your Market against the previous day's. With a Market Activity Report (in PDF format), you can react faster viewing:
Today and yesterday's market average rates compared to your store's rates.
Changes in inventory across the Market. Know how many stores are offering specific unit types and if there have been any changes since the previous day.
View how a unit's rates have trended over time in your Market (whether rates have been increasing or decreasing) over the last 5, 30, 90 days and last 12 months.
Not yet an OPTIMIZE subscriber? Request a free trial below!