One of the challenges owners and operators were faced with during the lockdowns during the last few months, was overcoming stagnant occupancy rates. As most of the country sheltered in place, less Americans were trying to move into new units. With the possibility of another recession, storage experts quickly advised owners and operators against dropping their rates in response. One of the main takeaways from the 2008 recession were the number of years it took for rates to finally stabilize post-recession. In the last few months, operators have had to quickly shift their focus on how to best draw in new renters. For some, this meant increasing the use of promotions and focusing more on online marketing. However, many operators, were forced to simply let everything pan out while they focused on immediate issues – such as the health of their staff and fast-changing local restrictions.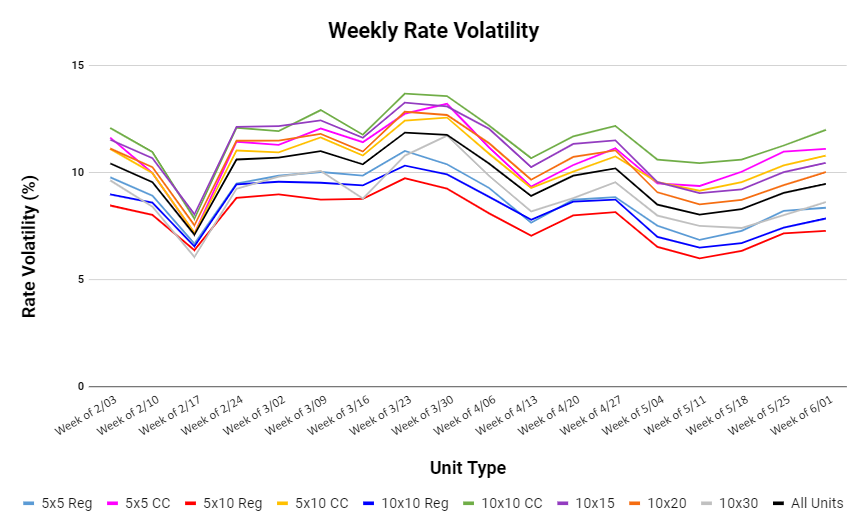 In this article, StorTrack analyzes the rate at which prices for common unit types were changed (also known as rate volatility) from February through the first week of June of this year. The graph shows an upward trend in rate volatility throughout March, right as lockdowns went into effect across most states. Volatility began declining across all unit types in April through May, in line with declining rental reservations and stagnant occupancy rates. However, as states begin reopening, it already looks like June is seeing an uptick in rate volatility, which is a good indicator of businesses going back to normal.
For insights into how operators are handling stagnant occupancy rates, watch this short interview with Tracy Sells, click here to view.